About the Artist
Charles John Tersolo II was born in Rochester, New Hampshire, in 1974. Charles graduated summa cum laude from the University of New Hampshire in 1997 with a Bachelor of Arts degree in Studio Art. Inspired by the creative possibilities of the cityscape, he moved to Boston. In 2004, Charles was selected to join the Copley Society of Art, the nation's oldest non-profit art association. In 2009, the board of governors unanimously named Charles a Copley Artist.
Charles has been working as a fine art oil painter since 2003. He now lives and works in New Britain, Connecticut, previously living in Jamaica Plain, Massachusetts with a studio and gallery in Boston's South End.
Selected Exhibitions
Solo
2012: "Just Grand: Venice, Paris, NYC, and the Grand Canyon." Beebe Estate Gallery, Melrose MA
2011: "The Light of Day." Trident Booksellers and Cafe, Boston MA
2011: "Above and Below: Zion and The Grand Canyon." Adieb Khadoure Fine Art Gallery, Santa Fe NM
2010: "In Season: Paris in Winter, NYC in Autumn, New England in Spring and Summer." Beebe Estate Gallery, Melrose MA
2009: "The Return of Beauty." Newton Free Library, Newton MA
2008: "Retrospective: 15 years of Charles Tersolo Paintings." Urban Living Studio Gallery, Boston MA
2005: Copley Society of Art, Boston MA
2002-2003: Gallery at South End Realty, Boston MA
2001: Infinity Gallery (South End), Boston MA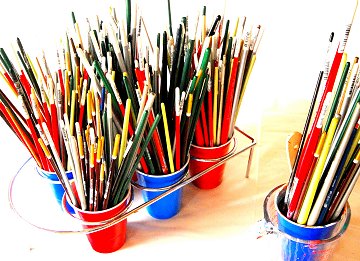 Group
2011-2013: Art 3 Gallery, Manchester NH
2009-2014: Adieb Khadoure Fine Art, Santa Fe NM
2008-Present: 13 Forest Gallery, Arlington MA
2006-2010: Artmosphere Gallery, Boston MA
2004-Present: Copley Society of Art, Boston MA
2004-Present: 450 Harrison Avenue Studios, Boston MA
2003-Present: Thanassi Gallery, Provincetown MA
2003-2004: Provincetown Art Association, Provincetown MA
2003-2004: New Art on Newbury, Boston MA
2003-2005: Art Showcase, SoHo, New York NY
1998-2014: Out of the Blue Art Gallery, Cambridge MA
1998-2001: Infinity Gallery (South End), Boston MA
Recent Fine Art Festivals
2015
Mount Dora Arts Festival, Mount Dora FL
Art Fest by the Sea, Jupiter FL
Scottsdale Arts Festival, Scottsdale AZ
ArtFest, Stuart FL (Award: 2nd Place 2-D Art)
Ridgeland Fine Arts Festival, Ridgeland MS
Rittenhouse Square Fine Art Show, Philadelphia PA
Old Town Art Fair, Chicago IL
Guilford Art Center Expo, Guilford CT
Mystic Outdoor Art Festival, Mystic CT (Beonne Beronda Award)
Long's Park Art & Craft Festival, Lancaster PA
On the Green Fine Art Show, Glastonbury CT
Autumn Craft Fair at Lincoln Center, New York, NY
Bruce Museum Outdoor Arts Festival, Greenwich CT
Great Gulf Coast Arts Festival, Pensacola FL
Downtown Gainesville Festival & Art Show, Gainesville FL
2014
Raymond James Gasparilla Festival of the Arts, Tampa FL
La Quinta Arts Festival, La Quinta CA
Winter Park Sidewalk Art Festival, Winter Park FL
Atlanta Dogwood Festival, Atlanta GA
Mainsail Art Festival, St Petersburg FL
Magic City Art Connection, Birmingham AL
Boardwalk Art Show, Virginia Beach VA
Westport Fine Arts Festival, Westport CT
Port Clinton Art Festival, Highland Park IL (Chicago)
Long's Park Art & Craft Festival, Lancaster PA
Penrod Arts Fair, Indianapolis IN
Paradise City Arts Festival, Northampton MA
RiverArtsFest, Memphis TN
2013
Coconut Grove Arts Festival, Miami FL
Bonita Springs National Art Festival, Bonita Springs FL
Winter Park Sidewalk Arts Festival, Winter Park, FL (Award of Merit)
Bayou City Memorial Park, Houston TX
Art on The Square, Southlake TX (Dallas/Fort Worth)
Cottonwood Arts Festival, Richardson, Texas (Dallas)
Broad Ripple Art Fair, Indianapolis IN
Washington Square Outdoor Art Exhibit, New York NY
Three Rivers Arts Festival, Pittsburgh PA
Lakefront Festival of Art, Milwaukee WI
Boston Mills ArtFest, Peninsula OH
Wickford Art Festival, Wickford RI
Art on the Green Fine Art and Craft Show, Glastonbury CT
Rittenhouse Square Fine Art Show, Philadelphia PA
Stockley Gardens, Norfolk VA
Craft Westport, Westport CT
2012
Paradise City Arts Festival, Northampton MA
Art at the Glen Town Center, Glenview, IL (Award Winner: Best in Show)
Westport Fine Arts Festival, Westport CT
Old Town Art Fair, Chicago IL
Rittenhouse Square Fine Art Show, Philadelphia PA
Old Island Days Art Festival, Key West FL
Coconut Grove Arts Festival, Miami FL
Downtown Delray Beach Festival of the Arts, Delray Beach FL
Bonita Springs National Art Festival, Bonita Springs FL
2011
St James Court Art Show, Louisville KY (Award Winner: 2nd Prize 2-D Art)
Allentown Art Festival, Buffalo NY
Long Island Fine Arts Festival, East Meadow NY
Meet the Artists and Artisans, Milford CT
Mainsail Arts Festival, St Petersburg FL
Melrose Arts Festival, Melrose MA
2010
Bayou City Art Festival Downtown, Houston TX
Black Swamp Arts Festival, Bowling Green OH
WCSH6 Sidewalk Art Festival, Portland ME
Westport Fine Arts Festival, Westport CT
Allentown Art Festival, Buffalo NY
Three Rivers Arts Festival, Pittsburgh PA
Meet the Artists and Artisans, Milford CT
Downtown Naples Festival of the Arts, Naples FL
Artist Statement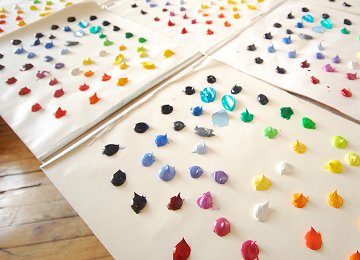 Thoughtful and inventive people tell others to visit a place, that they must see it; there is something inspiring about it, they will walk away a little larger. My works capture not only an image of these locales, but a heightened multi-experience. Through composition and a careful seven-layer process, using hand-mixed tubes including varnish and oil, I recreate highlights and colors such that when different combinations of light hit them, they change color and appearance similar to the original landscape and architecture.
Over 500 brushes are used to mix a prepared palette of 42 spectrum colors and pastel tones into delicate combinations that can no longer be named, slightly neutral tones that feed off of one another making a luminous whole. A brush is used just once to mix two or three colors, then set aside for cleaning, allowing unparalleled color clarity.
My current show is JUST GRAND: Venice, Paris, New York City, and the Grand Canyon (Canal, Palais/Boulevards, and Central Terminal). This collection explores elements that evoke the beauty of breadth and time. The subjects I work with are often endangered or historic, places people can visit but cannot own. These works give people freedom to live where they like and choose surroundings that stimulate them afterward. My synthetic impressionist series focuses and enlarges invented details and swirls them into an engaging whole.
In my Color Realist works, textures and tones are repainted seven times, creating a sense of space and light from the exact color choice of each stroke relating to others. I manipulate photo-studies into digital watercolors, then project them, creating original oils in a way similar to painting en plein air. I mix my own tubes using clear walnut oil, transparent varnish, and translucent whites. The visual effect of the overlapping color layers changes when viewed in different light, the way landscape and buildings vary with weather and time of day. My abstract paintings use the same seven-layer process, the shapes evolving as well as the colors.
Painting Styles
City & Landscape
For Charles, architecture is personality. Colors, unique details, and intersecting forms demand the attention of his palette and brush. Many are painted directly from life, meditating on color and light that shifts with the passage of time. Years of painting outdoors, along with altering and projecting digital photography, have provided Charles the tools to paint locations all over the world with the same immediacy of his plein air works. Many extraordinary digital studies of Paris, New York City, Chicago, Florida, New England and the American Southwest await a commission to bring them to life in paint.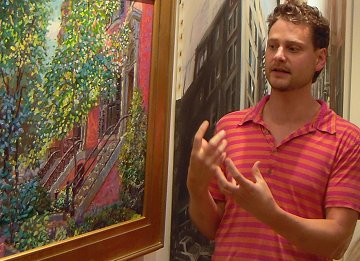 Around the world and in your backyard, there are buildings that are more than they need to be: they are giant outdoor sculpture. In detail, shape, complexity, materials, elegant proportion and the way they catch sun, they stop the eye and fire the imagination. Always in varying states of repair, these unique structures remind us that someone, somewhere, did more than they needed to. They tell us that perhaps we can also do more than we think we can.
Collectors may never experience these structures firsthand, at the exact moment they catch the sun just right. Charles works to recreate them on canvas in vibrant color and brushwork, allowing them to be enjoyed by patrons at the perfect moment, in the comfort of their homes. "As building construction can be one of the costliest endeavors, and details and materials can always be done more inexpensively, I hope these paintings encourage investment in both future inspiring structures, and care for ones already built."
Conceptual
Early cityscapes included writing on the backs of the canvas. A kind of journal entry, they document moments where everyday, cliche, common sense logic revealed themselves to Charles's "question authority" persona. "In 2001 I began moving written word to the front of my paintings. Conceptual and installation art was playful and engaging for me, but often huge or impractical for display in homes. My textual paintings provoke as much as museum pieces, but have a surface reading that is light and jumbled, explored only when one stops, stares at them, and seeks out their meaning." These paintings are livable, decorative, and often minimal in range of color or tonal values. They employ encrypted and conjugated proverbs, combined with images of popular art, to expose the virtues of living deliberately and gaining the style of others.
Abstract
"In 2003 I began my own abstract pieces. Rather than working from an idea, emotion, or experience, my abstract paintings are pure expression of color and shape." These works are created with traditional painting method, using thin paint layers at first, applying shapes and colors and allowing them to dry. Successive layers of paint are applied, the colors and shapes respond to early ones and grow, like a city. Some colors are preserved until the end, while others get covered or altered. Glazing with transparent layering of color, or semi-transparent frotties including some white, are traditional oil techniques that allows harmonizing when applied to the whole canvas. "The finesse and expressive qualities of my pure abstracts grow with my other styles, informing each other."
Unique Works
These paintings are those that fit into the category of not fitting into a category. They are also works that remain available from previously-completed painting series. This label allows growth and exploration of singular ideas outside the context of a larger body of work.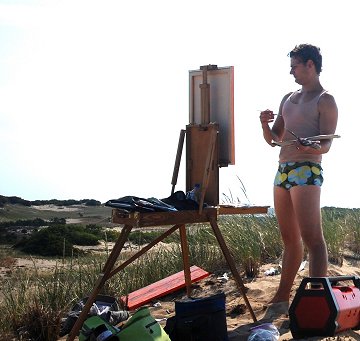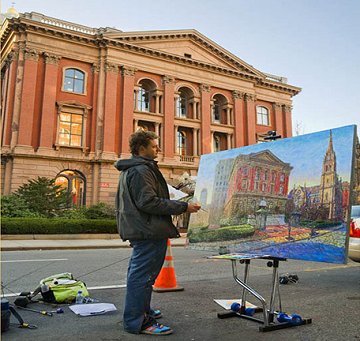 ---
updated: 05/25/2020